OVERVIEW OF ELECTRIFIED VEHICLES
WHAT IS A LOW EMISSION/ELECTRIFIED VEHICLE?
Low Emission Vehicles (LEVs) are defined as vehicles that minimize or eliminate the use of fossil fuel (gasoline and diesel). These include a range of vehicles from multiple manufacturers that rely solely-or in part-on rechargeable electric technology to power the vehicle.
LEVs accomplish low emission levels through the use of fuel cells such as hydrogen, or by electrifying the vehicle, which are referred to as Electrified Vehicles, or EVs for short. The term "EV" is used throughout this web page to define any of the various vehicle types that use battery-powered electric motors to propel, or help propel, the vehicle.
EVs offer four primary advantages over ICE vehicles:

Efficiency

 

- On average, internal combustion engines are only 30% efficient. By comparison, electric motors are up to 95% efficient and have zero impact on the environment, while ICE vehicles release noxious pollutants into the atmosphere.

Simplicity in Design and Maintenance

 

- Electric motors have fewer moving parts. From an electromagnetic point of view there aren't many differences between a simple bike dynamo and a modern electric motor. The simplicity of design results in improved reliability and streamlined maintenance needs.

Immediate Torque Delivery

 

- Unlike an internal combustion engine, that needs to be maintained in a certain range of engine revolutions to deliver the right torque, electric motor torque is at its maximum already, beginning at 0 (zero) rpm. Impressive torque response is an important feature to point out to customers during the test drive.

Energy Recovery

 

- A big advantage of electric motors is the ability to recover energy. During deceleration the motor becomes a generator and can re-transform mechanical energy into electricity. This is accomplished with on-board regenerative braking technology.
Another advantage of the electric motor is that the energy flow can be bidirectional. When powered by electricity, an electric motor generates mechanical energy by movement, but if dragged-e.g., during deceleration-it becomes a generator and can retransform mechanical energy into electric. This energy is sent to the battery to increase its state of charge and can be used later on, maximizing the overall efficiency.
TYPES OF ELECTRIFIED VEHICLES
EVs are divided into two categories: Hybrid and Battery Electric Vehicles. There are several types of Hybrid vehicles, categorized as follows.
Mild Hybrid Vehicle (MHEV)


A Hybrid Electric Vehicle combines a conventional internal combustion engine (ICE) that runs on fuel with an electric motor and battery. The electric motor supports the internal combustion engine (ICE) in the vehicle. In a Mild Hybrid Electric Vehicle, the motor alone is not capable of powering the vehicle. This category includes a variety of technologies, so the available functions differ from model to model. Typical advantages include smooth restarts when using Engine Stop/Start technology, as well as the benefits of regenerative braking.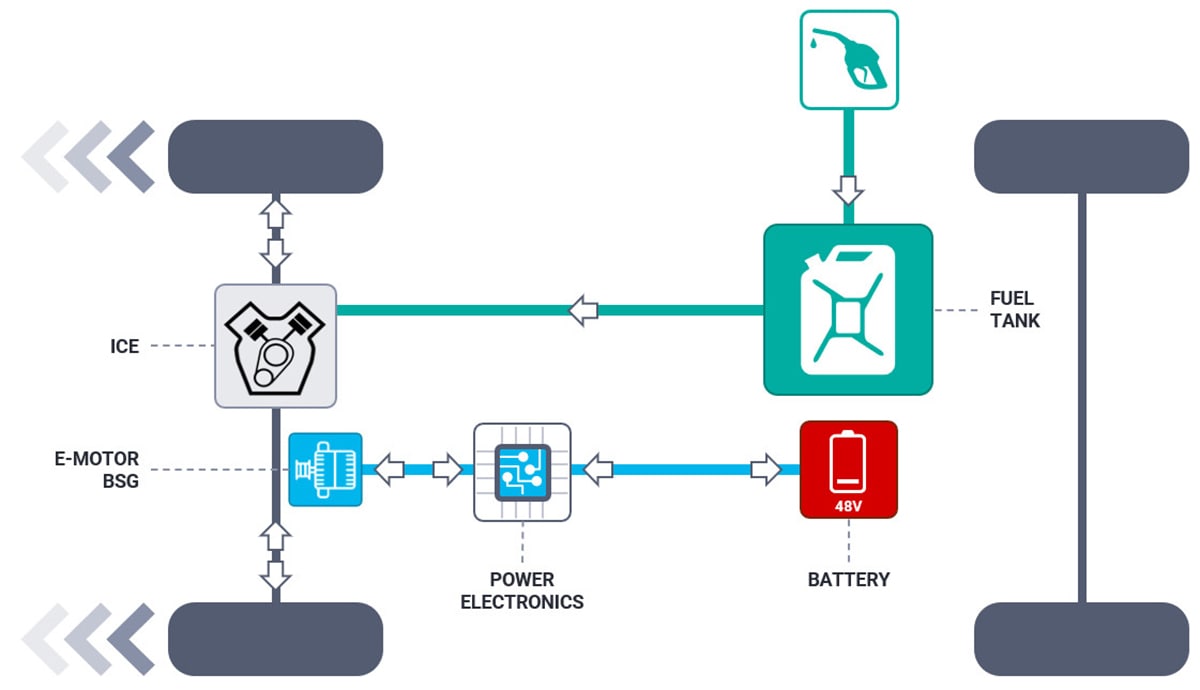 Hybrid Electric Vehicle (HEV)


The Hybrid Electric Vehicle (HEV), also referred to as a Full Hybrid also uses both a conventional internal combustion engine (ICE) and an electric motor. The Hybrid Electrical Vehicle can be driven on electric power only for short distances (up to approximately 1-2 miles) before switching to the internal combustion engine. There are no plugs or cables for external charging.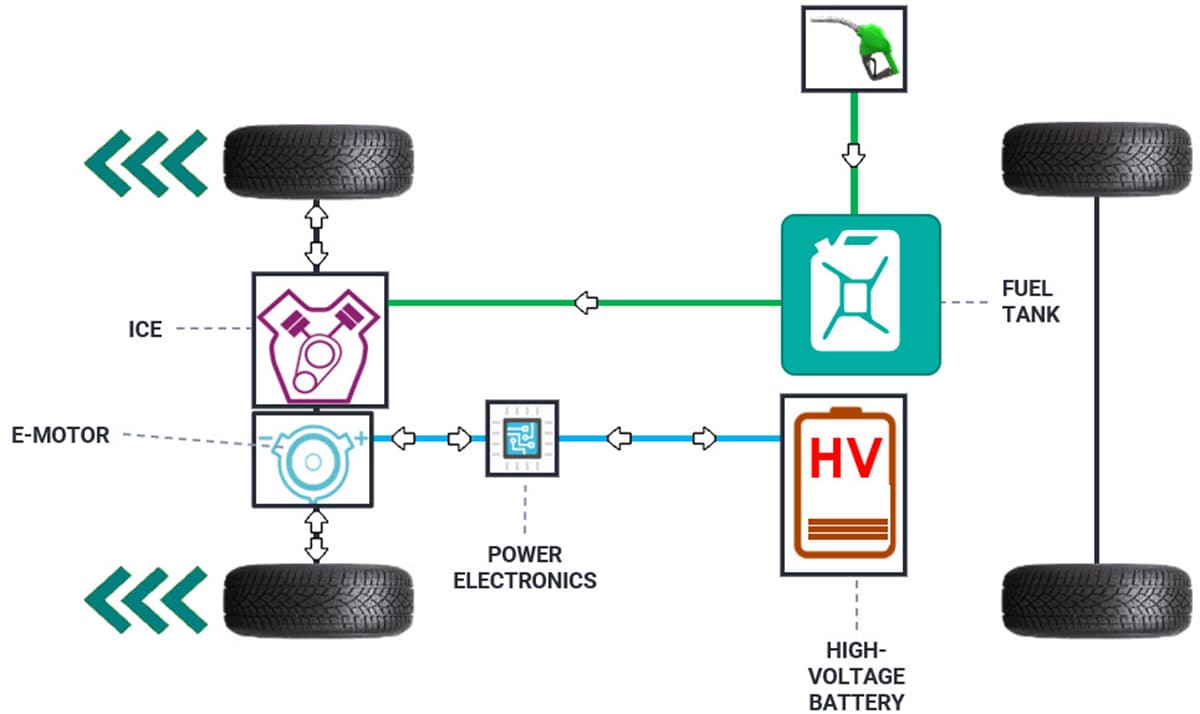 Plug-In Hybrid Vehicle (PHEV)




A type of hybrid vehicle, the Plug-In Hybrid also features an ICE and electric motor but has a battery with higher storage capacity. This combination provides better All-Electric Range than traditional hybrids. The PHEV is charged by plugging it into the electric grid at home or at public charging stations, and with on-board regenerative braking. The PHEV can be driven in pure EV mode for around 30 miles (depending on the battery capacity).





PHEVs also enjoy the benefits of regenerative braking to help recharge the battery. And keep in mind, even if the battery power is depleted, the customer can still drive the vehicle using the ICE running on gasoline.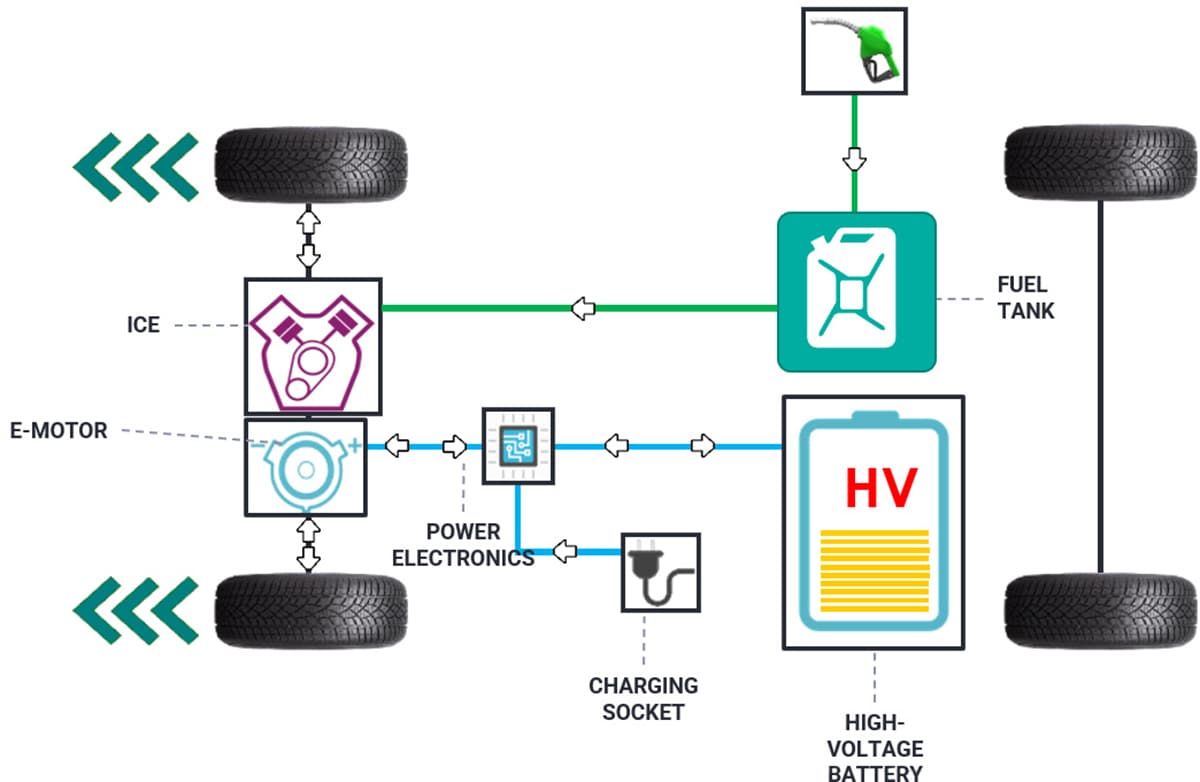 Range Extended Electric Vehicle (REEV)




The Range Extended Electric Vehicle (REEV) features an extended range in electric mode thanks to a small ICE that acts as a pure generator. Propulsion is fully electric, and the ICE is only used to charge the battery through a direct coupling with a dedicated generator. The battery is charged by regenerative braking, from a power grid and by the ICE. The electric motor drives the wheels almost all of the time, but the ICE can contribute to propulsion at highway speeds when the battery is depleted.

Battery Electric Vehicle (BEV)




This type of vehicle works on electric energy stored in the battery. An electric motor powered from the stored electricity drives the vehicle. Recharging the battery is accomplished by plugging it into the electric grid at home or public charging stations, plus on-board regenerative braking. BEVs provide available torque at zero rpm giving them exceptional acceleration. By locating the heavy traction battery in the floor of the vehicle, it lowers the center of gravity lower, resulting in limited body roll and greater comfort.